Beginning Patternmaking 2021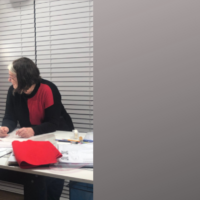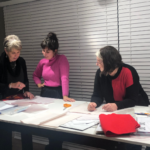 Morning, Evenings or Saturdays, the Pattern making course is designed so you can make custom made garments that fit you.  You will learn to patterndraft in a standard size 10. We use full size pattern drafting so you understand the scale. The results will astound you, using our own specifically designed template for bodice blocks, and course materials based on years of experience. This course is designed to teach you the foundations of Patternmaking. We supply most of the materials you will need for this course see the tab below for the full list of supplies.
You will learn the skills required by creating blocks and through tutor guided adaptions.
Basic Skirt Block – a number of adaptations to extend your imagination.
Basic Trouser Block – 3 adaptations.
Basic Knit Bodice Block – adaptations for 'T's
Fitted Bodice Block – adaptations for fitted tops and the dress block.
Maximum class size is 6 – 8 students, however the class will go ahead if we have a minimum 3 students. This will mean that the course may finish a few weeks earlier depending on the number of students in the class.
Morning Classes 10 weeks Thursday 9.30am – 12.30 pm
18-Feb-2021, 25-Feb-2021, 4-Mar-2021, 11-Mar-2021, 18-Mar-2021, 25-Mar-2021, 1-Apr-2021, 8-Apr-2021, 15-Apr-2021, 6-May-2021
10 weeks Saturdays 9.30am – 12.30pm
20-Feb-2021, 27-Feb-2021, 6-Mar-2021, 13-Mar-2021, 20-Mar-2021, 27-Mar-2021, 10-Apr-2021, 8-May-2021, 15-May-2021, 22-May-2021
Evening Classes
12 weeks Tuesday 6.30pm – 9.00pm
16-Feb-2021, 23-Feb-2021, 2-Mar-2021, 9-Mar-2021, 16-Mar-2021, 23-Mar-2021, 30-Mar-2021, 6-Apr-2021, 13-Apr-2021, 4-May-2021, 11-May-2021, 18-May-2021
When you complete the course you will receive a Certificate of Completion
We have an interest free installment plan – see enrolment for details
PATTERNMAKING SUPPLIES – $249.00
1 x length of Fabric Felt 1/2 metre for tracing off patterns and protecting table tops
1 x sellotape
1 x tape measure
1 x Set Square
1 x Tracing Wheel
1 x French Curve
4 x Coloured Felt Pens
1 x Mechanical Pencil 2B
1 x Paper Scissor
1 x Eraser
Supplies case
Felt
NZAF Specialised Bodice Template and course workbooks supplied with course fee
The inaugural students in the new Academy to receive their Certificates for Introductory Patternmaking from Sunita our Principal.  Congratulations to all the class.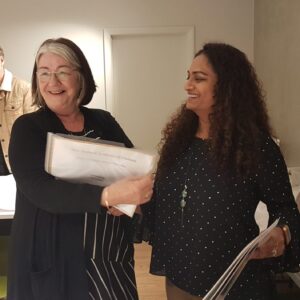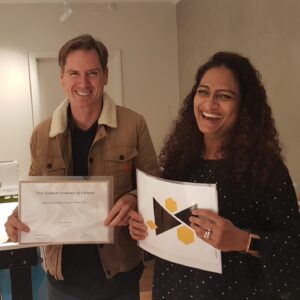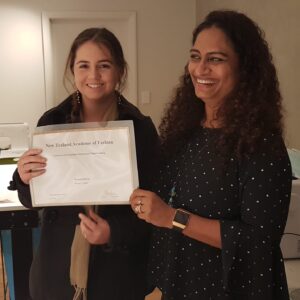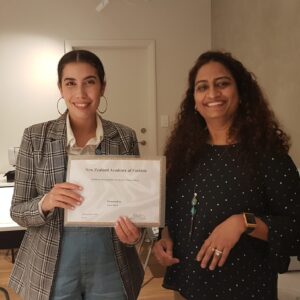 "I recently completed the Saturday Intro to Patternmaking course and can't recommend it highly enough. I was really impressed on how straightforward and easy to understand the techniques in the NZAF course. Sunita, gave clear and concise instruction in every step of each block and made sure that everything was understood completely. Dart transference, which had always been a bit of an enigma to me, is now very clear. In addition, the pattern drafting tools that were supplied in the course kit were incredibly easy to navigate. Sunita also has an amazing wealth of knowledge, due to her background in fashion design, which she doesn't hesitate to impart to her students in order to make the process even clearer. I can't wait to put into practice the techniques I learnt so I can start drafting my own wardrobe. I really do highly recommend this course for anyone who has an interest in pattern making and dressmaking. You won't regret it!" – Jenny Thompson
"What I liked most about this course was gaining an understanding of the basic constructs of a pattern, I felt the biggest benefits of taking this course were knowledge, understanding and confidence.  I would recommend this course to my friends and would like to do the more advanced course next. -Kay Mansfield
"Can't wait to start designing my own clothes!" Nadine Burgess
 "Awesome course. Highly recommended to anyone who is a sewer. Far exceeded any expectations I had of this course." Elva Prier  
We have an interest free installment plan – see enrolment for details
Enquire
Enrol