Tailoring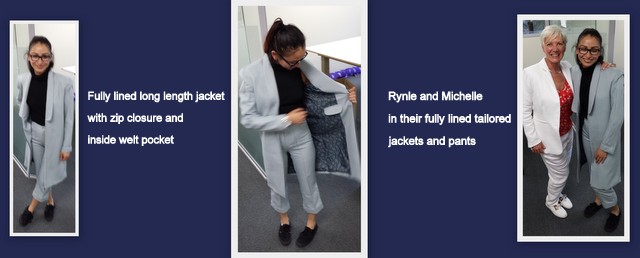 Tailoring is an advanced skill, in this module you will learn to design and sew a tailored fully lined jacket with two piece sleeve and skirt or pants. You will pattern draft your own design, and learn to draft different jacket necklines, sleeves etc. You will also learn advanced patternmaking techniques like those pictured above.  Add originality to your tailoring with Pattern Magic.
Learning Outcomes: 
Work with stable suiting fabrics
Learn how to line and bag a skirt and jacket
Knowledge of fusing and tailoring construction
Learn how to sew welt pockets, bound buttonholes, traditional tailoring and more.
Your investment:  $2500 plus $275 materials
Day Class 2 days for 12 weeks
or Evening 6.30 – 9.30pm for 9 months
we follow the Secondary School Holidays, no class during this time
Prequiste for these classes is our Diploma or Saturday Patternmaking Course, or patternmaking experience.
Classes are limited to 6 students per module 
Enquire Now for next course