Apparel Creation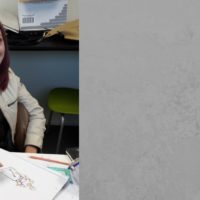 This distance course (or Academy based)  is ideal for the person who wants to learn to create garments from the absolute beginning  to an industry standard without the drama of exams and assignments.  Based on our PAAV/Q-SET Diploma we have given for the last 12 years, we have extracted the Garment Construction and Patternmaking modules.
The work is based around the latest learning, actually making samples and translating that understanding to pattern drafting.  You will be able to understand design lines and translate those into beautiful garments.
Your work is assessed in class by our tutors, followed by a Patternmaking Exam at the end of the course, marked by an external expert.
You will receive  a Certificate of Completion for Apparel Creation from the Academy.
The course is as follows:
Garment Construction
Pattern drafting 
In Garment Construction you will sew samples to learn and enhance your sewing skills, understand the garment construction methods, and then create patterns for those garments.
You will learn on an industrial straight sewer and overlocker as well as domestic machines.
In Patternmaking the student will create the toiles (calico) for the blocks and create fashion adaptations from those blocks in a standard size 12.
skirt
trousers
T Shirt
fitted Shirt(dress) and sleeve
collars, necklines, cuffs, fly zips etc.
many adaptations so you understand the design process.
You will receive a Certificate of Completion in Apparel Creation Level 3 from the Academy.
The course is held over 2 days Monday and Tuesday during the school term and excludes public holidays.
Apparel Creation starts on 4 of March 2019 and finishes 2 December 2019
Your investment for this course is $6300
An interest free instalment plan is available, see enrolment form
Fees subject to change without notice
Materials and supplies are $699 and must be paid for in advance.
GARMENT CONSTRUCTION SUPPLIES
1 x 60 Page Display Book or copy safe pockets for sending in work
5 meters of calico for samples approx
Various needles and thread for making samples
Use of academy equipment
PATTERNMAKING SUPPLIES
1 x NZAF Template and Coursework
1 x Set Square
1 x Tracing Wheel
1 x Awl
1 x Notcher
1 x French Curve
1 x length of Fabric for patternmaking, for tracing off patterns and protecting table tops
4 x Coloured Felt Pens
1 x Mechanical Pencil
1 x Paper Scissors
1 x Eraser
For you to supply
You will need supply a carrier for the above.  A  carrier bag that can accommodate 297 x 420 mm (A3) will be useful as will a pouch for your pens, scissors etc.  Garment construction notions over above will also need to be purchased.  Fabric Scissors, pins, quick unpick, turning corner, pull through, etc.
Broken down into its parts:-
Develop mastery of the sewing machine
Skirt – increase your techniques and learn how to construct a basic skirt – Pattern draft a skirt and adaptations
Knit – increase your techniques and learn how to construct a basic knit top – Pattern draft a knit top and adaptations
Fitted bodice block – increase your techniques and learn how to construct different fitted tops in standard size – Pattern draft fitted bodice block and adaptations
Trouser/Pants – increase your techniques and learn how to construct a basic trouser – Pattern draft trousers and adaptations.