Building blocks of fashion
"Fit falls into three categories: too small, too large, or the wrong shape." – Kenneth D.King – Threads Magazine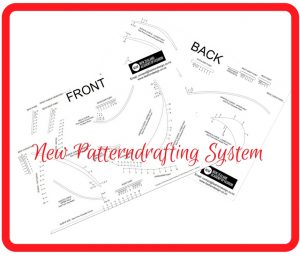 We have found that today's designer or home dressmaker needs a quick and easy method to get that perfect fit, we have also found that:-
Creative people like to have control over their creations
Creatives like to make their own designs and are extremely resistant to learning a computer program to do their job
Creatives prefer to work with their hands and prove their designs
We have simplified the methods for making a skirt and trouser block, all you need is a french curve, grading triangle, and 1 meter ruler (minimum requirement) to use these methods; the addition of the specifically developed template will give you the
fitted bodice block –
sleeve –
dress block  –
knit block!
All for (mostly) any size or cup shape the designer requires.
We designed, developed and tested our own template which gives a fitted bodice and sleeve block.   Students and friends of the Academy and have found that our template based on our own specifically developed block will fit a variety of shapes and take account of bust size.
You may use the developed block as a template for commercial patterns.  Your block will show you where you deviate from the norm and you can adjust accordingly.
If you are in bespoke, or costume design this unique tool will assist you to create a fitted bodice block from measurements to toile in a very short period of time. (I have used this tool for some time and am now able to make a block for a client in less than an hour, including sleeves, that's from measurements to toile!). Small fitting adjustments, and you have a block for yourself or others from which to start your own designs. No more relying on standardised blocks and grading up and down.
With our method the fitted bodice block, from taking measurements to fitting a calico/toile on the client will take less than an hour.
Any block at this point is the starting point, adjustments will need to be made, however these are usually minor tweaks and we outline most of these in our manual. Full instructions are given for all blocks, these have been tested at the Academy and gone through with a number of students who have different learning styles to make the instructions as clear as possible.
You will receive the most satisfaction from the Building Blocks of Fashion if you are already a competent dressmaker and understand how garments are put together.
You can study either at the Academy or by Distance.
At the Academy you will be taken through a process of creating the blocks with to help you understand the basics of pattern drafting, and measuring the body.
You will be expected to make up the toiles/calico in your own time and bring them to the Academy for fitting.
Not only will you receive the fitted bodice block template, but also our specially developed pants and skirt blocks.  Once you have made your blocks its time for our patternmaking classes
Day – 5 hours per day – Saturday  9.30am – 2.30pm – $675
Week 1 – Skirt
Week 2 – Fitted Bodice Block
Week 3 – cont. Fitted Bodice Block with sleeve
Week 4 – Pants
Evening – 3 hours per evening 6.30pm – 9.30pm – $675
Week 1 and 2 – Skirt
Week 3 and 4 – Fitted Bodice Block
Week 5 and 6 – Fitted Bodice Block with sleeve
Week 7 and 8 – Pants
Enrol or Enquire Now
Materials for all courses $249
You will receive

NZ Academy of Fashion Template
French Curve
Set Square
Misc stationery
NZ Academy of Fashion Instruction Manual

You will need to supply

Calico – approx 5 metres
Carry bag for your blocks and materials

1 x BIC Pen Blue

1 x BIC Red Pen`

1 x Mechanical Pencil

1 x Scotch Magic Tape

1 x 100cm Ruler – Metal

1 x length of felt or similar fabric 40cm x 90cm approx

4 x Coloured Felt Pens

1 x Tracing wheel

1 x Tape Measure

1 x Eraser

1 x Paper Scissors
Once you have the blocks (a standard set, and your own size), the Academy offers a beginning pattern making course that enables you to look at an image and find the design lines.  Skills that will allow you to create patterns for yourself or your clients.