Distance Courses
Patternmaking and Garment construction are at the heart of any fashion career.  Our tutors are experienced dressmakers and patternmakers who will assess your work and give timely feedback so you do not feel you are working in isolation.  We have a number of courses which will cater to the students requirements.
Click here to learn more
Distance learning offers more choice and more control over what, how, when and where you learn.
You may start our distances courses at any time.
Open means you can study when and where it suits you. It also means you have flexibility with your timetable – you do your own planning to fit your study around the rest of your life, and you can study part-time or full-time.
Our courses are practical and hands on, you will need some space to sew and create patterns.
Distance means you don't need to come to classes or attend tutorials or lectures. We send the learning material to you and you work through it, then send your work back to us for marking and feedback.
As a student, you'll need to apply yourself and put in the time and effort. You will need a high level of personal discipline and the ability to plan your time carefully. As a reward, you will get an unforgettable learning experience and thoroughly enjoy yourself in the process.
You'll gain new skills and knowledge, all without having to disrupt your life too much.
Managing your study time is important. To make sure you have the time to meet your study commitments as well as manage the rest of your life, you need to think about how many hours you can devote to study. To work out how many weeks you will need to study divide the suggested hours by the number of weeks you will be studying to find out how many hours per week you should allow.
Of course, you will have our support every step of the way, you will send in your work every few weeks and get timely and constructive feedback.
200 study hours – time limit 12 months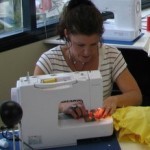 This popular course will teach you how to construct garments and work with commercial patterns. If you have never sewn before then this is the course you should take before you go onto Patternmaking, it is important you know how to construct a garment.read more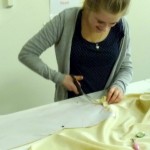 400 hours study time Certificate of Completion in Apparel Creation, time limit 3 years.
Encompassing both of the above courses, Garment Construction, and Patternmaking.  This will give you the vocational skills needed to either open your own business, go onto further study, or work in the industry. read more
250 study hours – time limit 2 years
If you are an accomplished sewer and understand ccommercial patterns, then this course will expand your knowledge.  Suitable for those who want to make their own patterns for their own purposes or to create designs for others.  The Academy uses its own manual and systems specially developed for the distance student. read more
The student may take the complete system or any of the modules as follows:-

Construct a standard sized block for use with adaptations.
Adaptations – 19 differently styled skirts to give insight into dart manipulation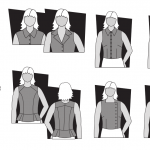 Adaptations  – over 50 covering shirts, dresses, sleeves, necklines, collars, cuffs etc., and also knit garments. This course includes our specially developed template

Adaptations – 5 covering different leg styles, pockets, zip fly