Editorial Australian Stitches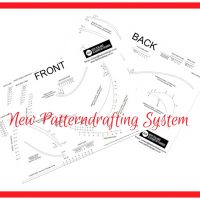 At NZ Academy of Fashion as part of our courses, we specialise in teaching people how to make blocks quickly and easily to fit them. We have used a number of systems over the years, but have recently developed our own fitted bodice block system that takes account of the bust size.

We have found that creative people like to make their own designs they prefer to work with their hands and prove their designs.
It has long been a desire of the Academy to provide our students with a simplified system that will give students blocks that will fit virtually any "body". We designed, developed and tested our own template which gives a fitted bodice and sleeve block for both woven and knit fabrics. We have found that our template based on this century's block will fit a variety of shapes and take account of bust size.
With our method the fitted bodice block, from measurements to a calico (toile) on the client will take less than an hour.
We have simplified the methods for making a skirt and trouser block, all you need is a french curve, grading triangle, and a 1 meter ruler to use these methods; the addition of the specifically developed template will give you the fitted bodice block, sleeve, dress block and knit block! All for (mostly) any size or cup shape the designer requires.
All blocks are a structure that will need to be slightly altered to fit no matter what system you use; adjustments can be easily made and transferred to the block for the client. Some adjustments may be needed to the sleeve if the armhole on the fitted bodice block needs adjustment, this is easy to achieve and full instructions are given.
Instructions are given for all blocks; these have been tested at the Academy with a number of students who have different learning styles to make the instructions as clear as possible.
You will get the most satisfaction from the Building Blocks of Fashion if you are already a competent dressmaker and understand how garments are put together, once you have completed this course, the Academy offers a pattern making course that teaches you to look at an image and find the design lines. Skills that will allow you to create patterns for yourself or your clients.
We offer this class at the Academy or by Distance, and is a perquisite for all of our Patternmaking courses.

Don't just take our word for it, Stephanie Viterbo a recent student who has just completed her Diploma said that she loved studying part time at the Academy. When she started the course she found it daunting as there was so much to learn, but with practice everything came together and she loved that she could experiment with her own designs. The course was practical and gave a broad skill set that will stand her in good stead for the future. She thoroughly enjoyed making her own stuff and really loved patternmaking. Using our system will give her a edge when she decides to start on her own creations. Steph found samples (sewing) tedious, but they contributed professionalism to the finished product. Stephanie was helped by her tutor Ariane who was patient and extremely thorough.
Currently working in retail, selling fabric in Auckland city, Stephanie is going on to her future with grounding in creating fashion that will serve her well.
Learn more at www.fashiondesign.co.nz