Intro Patternmaking 2020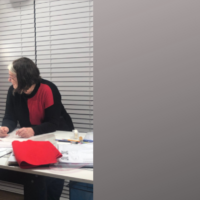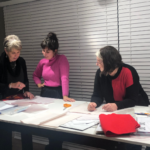 Morning, Evenings or Saturdays, the Pattern making course is designed so you can make unique garments that fit you.  First you will learn to patterndraft in a standard size 12. We use full size pattern drafting so you understand the scale. The results will astound you, using our own specifically designed template for bodice blocks, and course materials based on years of experience. You will learn skills to enable you to create styles yourself rather than taking a ready-made pattern, and adapting it with less than satisfactory results. We supply most of the materials you will need for this course see the tab below for the full list of supplies.
You will learn the skills required by creating your own blocks and through tutor guided adaptions.
Basic Skirt Block – a number of adaptations to extend your imagination.
Basic Trouser Block – 3 adaptations.
Basic Knit Bodice Block – adaptations for 'T's
Fitted Bodice Block – adaptations for fitted shirts and dresses.
Morning Classes  9 weeks 9.30am – 1.30 pm on Thursdays.
Intake 1 5 Mar 2020 – Intake 2 13 Aug 2020
Evening Classes 12 weeks 6.30pm – 9.30pm,  on Tuesdays or Mondays.
Intake 1 18 Feb 2020 – Intake 2 8 June 2020
Saturday Classes 8  non consecutive weeks 9.30am – 2.30pm.
Intake 1 22 Feb 2020 – Intake 2 25 July 2020
Complete dates in the Dates Tab
When you complete the course you will receive a Certificate in Apparel Creation – Patternmaking – Level 3
PATTERNMAKING SUPPLIES
Supplied with course
NZAF Specialised Bodice Template and course workbooks supplied with course fee
1 x length of Fabric Felt 1/2 metre for tracing off patterns and protecting table tops
1 x sellotape
1 x tape measure
1 x Set Square
1 x Tracing Wheel
1 x Awl
1 x French Curve
4 x Coloured Felt Pens
1 x Mechanical Pencil 2B
1 x Paper Scissor
1 x Eraser
Supplies case
Felt
Monday
Tuesday
6.30-9.30pm
Intake 1
Intake 2
18/02/2020
8/06/2020
25/02/2020
15/06/2020
3/03/2020
22/06/2020
10/03/2020
29/06/2020
17/03/2020
20/07/2020
24/03/2020
27/07/2020
31/03/2020
3/08/2020
7/04/2020
10/08/2020
28/04/2020
17/08/2020
5/05/2020
24/08/2020
12/05/2020
31/08/2020
19/05/2020
7/09/2020
Thursday
9.30am-1.30pm
Intake 1
Intake 2
5/03/2020
13/08/2020
12/03/2020
20/08/2020
19/03/2020
27/08/2020
26/03/2020
3/09/2020
2/04/2020
10/09/2020
7/05/2020
17/09/2020
14/05/2020
24/09/2020
21/05/2020
15/10/2020
28/05/2020
22/10/2020
Saturday
9.30am-2.30pm
Intake 1
Intake 2
22/02/2020
25/07/2020
7/03/2020
8/08/2020
21/03/2020
22/08/2020
4/04/2020
5/09/2020
2/05/2020
19/09/2020
16/05/2020
17/10/2020
30/05/2020
31/10/2020
13/06/2020
14/11/2020
"Awesome course. Highly recommended to anyone who is a sewer. Far exceeded any expectations I had of this course." Elva Prier – 2012 
"Can't wait to start designing my own clothes!" Nadine Burgess – 2012
We have an interest free installment plan – see enrolment for details
Enquire
Enrol