Melanie Donhauser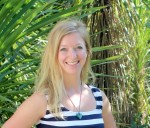 I always wanted to learn how to make my own patterns and design beautiful clothes but I wasn't able to quit my full time job. I found the Diploma course by searching the Internet and was so happy that I finally was able to study what I am so passionate about. I have learned so much and was able to do it from home. When I got stuck, with making patterns or making the garments, my tutor was so helpful and made it really easy to correct my mistakes, and put me on the right track.
Before I started the diploma I thought it would be a lot easier than it was. I have a bit of sewing experience but it took me a lot longer to complete the course material, and also the pattern making was a lot harder for me than I thought it would be. I have learned a lot more than I thought too.
The assistance of the Academy was great. Tutors were always available and so helpful.
I finally learned how to sew professional garments and design my own patterns.
I improved my sewing skills and can make garments a lot faster.
Now I will be able to change my professional career and hopefully get a job in the fashion industry.
I can only recommend the Academy the Distance Diploma is a great course and I would do it again.
Thank you so much for all the help and knowledge that I have gained from this course.
Melanie Donhauser – Distance Diploma