VJ Burton – Graduate Student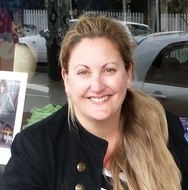 It's been 3 years since Vanessa left the Academy and I thought I would catch up with her and find out what she is doing now with her hard won Diploma.  When Vanessa took the Diploma she wanted to compress 2 years part time into 1 year.  Quite an ask we thought but Vanessa camped out at the Academy and passed with flying colours.  It had to be in a rush because Vanessa and her husband were only here for 1 year; soooo 3 years later they have bought a house in Birkenhead, Auckland, and don't show any signs of moving back to Australia.
Vanessa has set up her studio and does most of her consultations out of office hours, hence she  was able to catch up for coffee.  I asked her what she had been up to lately. She put an entry into WOW and was in Wellington getting ready for it when they found out their dog was missing from kennels in Auckland.  Vanessa was so frantic about her dog that after getting the entry ready to go, she got back into the car and drove back to Auckland to assist in the search.  As of Friday last week (3rd October) she still doesn't know how she placed.  However they found their dog, see the booties in the picture below. Poor fellow had been trying to find his way home and his paws were cut and bleeding.  Needless to say he won't let Vanessa out of his sight.
Vanessa says that most of her business comes from word of mouth, although she would recommend anyone setting up in business for themselves to get a professional photographic shoot of their line done for their website.  It showcases what you can do and it gives you and your customers confidence.  The garments on her website are the ones she took to Australian Fashion Week as a new designer.  She has used Facebook as a marketing tool, but really doesn't have the time for it.
As she became more confident in her abilities she found that she liked focussing on bridesmaids and she finds that when bridesmaids become brides they come back to her. She also finds that as a plus size woman she can effectively advise women on what will work for their body shape.
Quite of a lot brides now purchase from overseas and then want the garment altered to fit, this is not Vanessa's business as she wants to see a garment through from beginning to completion.
Just in case you think that Vanessa was not doing enough while she did her Diploma, she was also working as an Accountant in Takapuna.  At the end of the Diploma she had enough of the numbers game and is now doing business her way.
This year she turned a profit, and is in the enviable position of deciding if she wants to expand or have the business stay the same.