Learn to Sew – Get started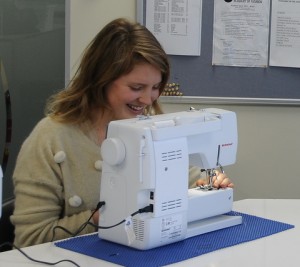 Learn to Sew – Getting Started
If you have ever wanted to learn to sew, this starter course, with no more than 8 students per class will allow you to learn the right way and give you the skills you need. Learn about measuring twice and cutting once!  With small classes you will receive structured lessons to gain confidence in your sewing skills.  Sign up for 4 classes and work your way through our sample range specially constructed to guide you to better sewing. Once you can sew your first Open Workshop class is free!
Ideal for beginners
learn to use your sewing machine.
Build confidence to tackle new projects,  learn all the sewing skills.
Step by step – 12 samples to improve your sewing techniques
Free Kit – see below
Consultation with the tutor for your next project
 When is it?
Every Monday or Tuesday morning from 9.30 – 12.30pm, you can start now!
Every Tuesday evening from 6.30  – 9.30pm, you can start 26 July 2016
Tuition:$120 for 4 weeks, you can then join the open class and make your own projects with the guidance of the tutor.  Payment in advance for 4 weeks.  Classes can be missed if you give 2 days notice, to allow us to fill your seat, if you don't give us notice, the class will be deducted from your advance payment.
Free Kit for first class:
sample patterns
1/2 metre calico
pins
tape measure
snips
thread provided by the Academy
Enrol Now
Recommended Supplies List
Can be purchased at the Academy or use as a shopping list, wait until you have a few classes under your belt though
1 x Small sharp pointed Scissors
1 x Tailors Chalk
1 x Assorted hand sewing needles
1 x Seam Ripper
1 x Magnetic Pin Cushion
1 x Dressmaking Scissors 220mm
1 x Pouch for Sewing supplies
1 x Point Turner