YeonJae Choi winner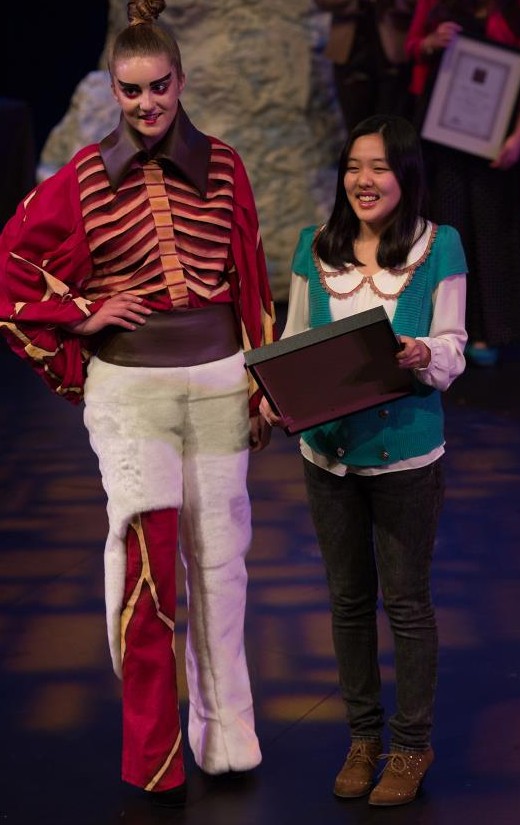 Our student YeonJae Choi, overall winner of the Newmarket Young Designer Award pictured with her model.  YeonJae has been coming to the Academy since she was 15, she started with the Teens After School class and is currently in her first year of the evening diploma, it is YeonJae's intention to finish secondary school with her academic achievements and to receive a Diploma next year from the Academy.  Read the release below to find out YeonJae's overall career so far which is a great start for a talented young lady.
"Yeonjae Choi, the overall winner of Newmarket Young Fashion Designer Award for 2012!
The Newmarket Business Association was thrilled to announce Yeonjae Choi as the 2012 Newmarket Young Fashion Designer of the Year Award Winner. The award night was held on Friday evening at Auckland Grammar's Centennial Theatre.
Yeonjae now moves into the exclusive group of young up and coming talent that has been recognized in the prestigious competition and will be receiving a two year scholarship with the highly regarded Whitecliffe College of Arts and Design, as well as a two week internship with top New Zealand designer Vicki Taylor at the Taylor design workroom.
Thanks also to Newmarket's Business World Travel, Yeonjae will be off to Melbourne next year to play an integral part of the 2013 L'Oréal Melbourne Fashion Festival backstage team for the week – helping to produce the many shows and working closely with some of Australasia's top designers.
Newmarket's Business World Travel will provide her flights and one week's accommodation in central Melbourne, so that she can stay close to the action for the whole week. Yeonjae will also receive $1,000 spending money to spend whilst in Melbourne!"
This is not the only competition that Yeonjae has won or been placed in, she was 2nd place getter in our National Competition for teens 16 – 19 years of age and last year was a winner in the Cultural Section of Bernina Young Fashion Designer.   Yeonjae says the Newmarket Business Association was such a grand prize for New Zealand that next year she will look to overseas competitions.
This talented young woman has two more years of secondary school left and then  she will take up the degree at Whitecliffs as above, and after that go on to further study either in Australia or England.  Next year on a more local scale she has an intern ship with Taylors Design Workroom during the school holidays.
Yeonjaes ambition is to be a fashion designer, have her own label and work for herself. She is extremely talented and interested in art and her creative skills extend to sculpture as well!
Yeonjae is off to Korea at the end of this year, and is excited to see her Grandparents, uncles and cousins after a break of 10 years.  I am sure she will enjoy the celebrations and returned renewed with more ideas for the future.